28 Best Tattoo Fonts for Getting Inked (2023)
Looking for some ink-spiration? You'll love our roundup of the best tattoo fonts available this year.
Our design experts have trawled the market and handpicked the very best fonts for tattoos, from some of the best designers in the business.
All of the typefaces in this list look great on all sorts of body art, both while the ink is fresh and as it ages. 
And we've made sure to include a mix of font styles that are well-suited to different types of typographical tattoo designs, whether that's names, quotes, numbers, lyrics, Roman numerals, or anything else.
Ready? Let's get started
The 28 Best Tattoo Fonts
1. Rogusta – Our Top Pick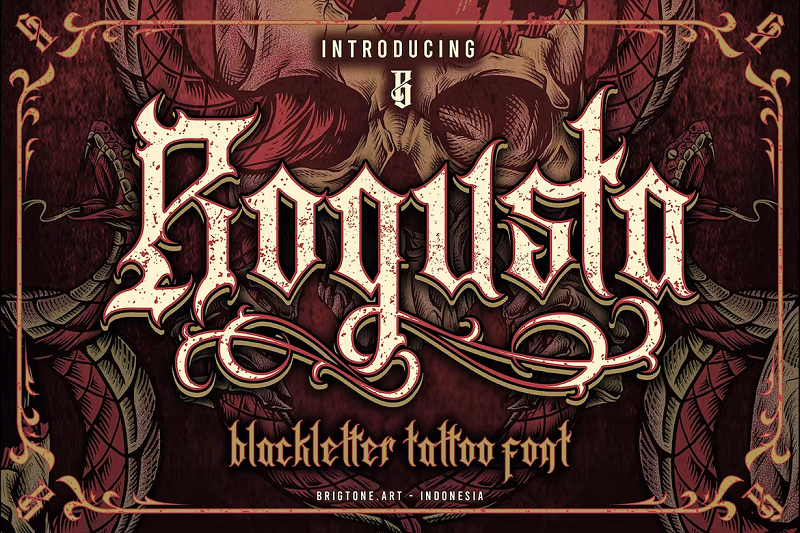 Rogusta is one of the best blackletter tattoo fonts available and would be perfect for masculine or gothic designs. It would look great as part of a large tattoo, and it could also be used in other tattoo-themed designs, such as t-shirts and logos. 
Why it's our top pick
This is a classic, gothic-style font that's evocative of traditional tattoos. It's highly decorative, has sharp edges, and will hold up well over long periods of time. 
2. Harmonie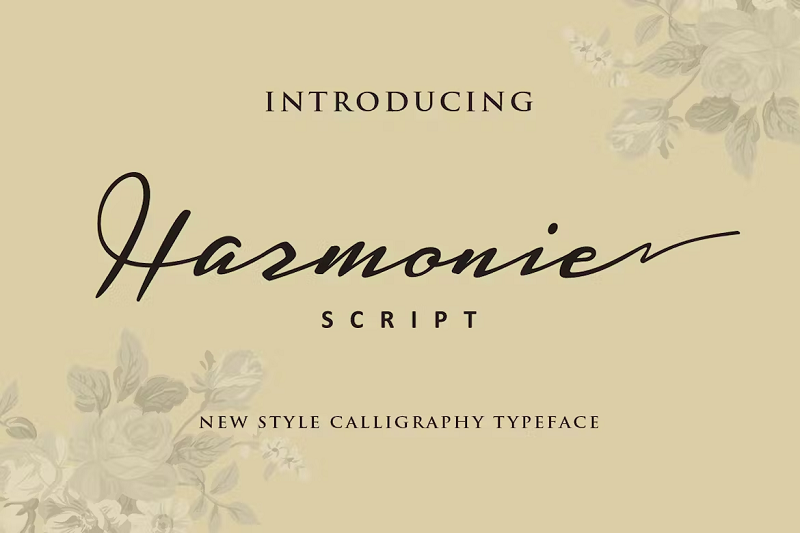 Harmonie is one of the best script tattoo fonts for more feminine designs. The cursive, handwritten style makes it delicate and elegant, but not super-thin, so will still hold up well as it ages. 
Harmonie is a classic calligraphic typeface that would be perfect for tattoos of quotes, lyrics, and more. 
3. Brisk Wondering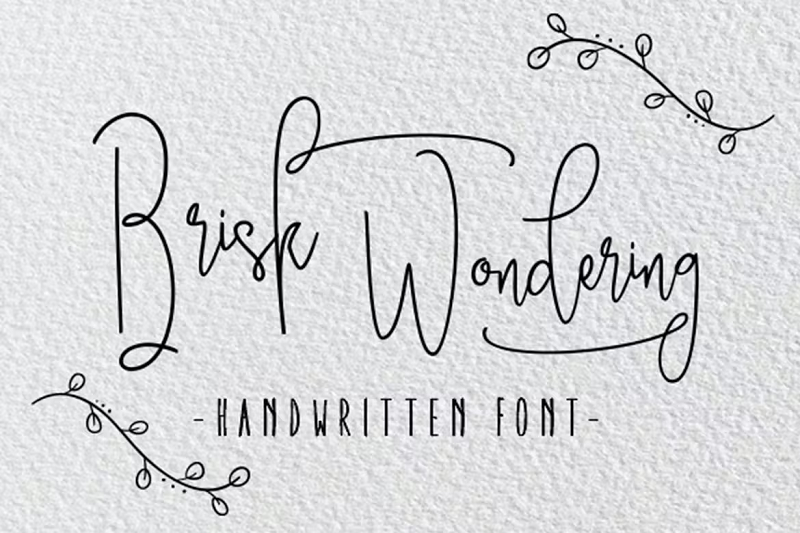 Brisk Wondering is a quirky handwritten line art font that would be great for tattoos. It's super thin and delicate, making it perfect for understated and contemporary tattoos. This font would work great for simple and small tattoos of lyrics, names, and more.
4. Strong West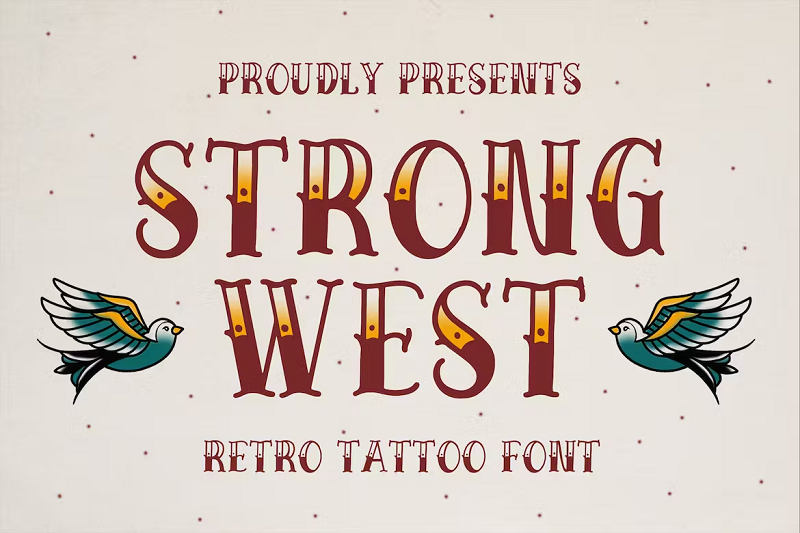 Strong West is the perfect tattoo font for retro designs. The font is evocative of old Western movies and memorabilia and would make a great addition to a bold and traditional tattoo design. 
This font would be perfect for name tattoos and also includes numerical characters so could be used for date tattoos as well. The font pack also includes multilingual accents and punctuation, which gives your greater freedom when designing your tattoos. 
5. Tattoos Dingbat Font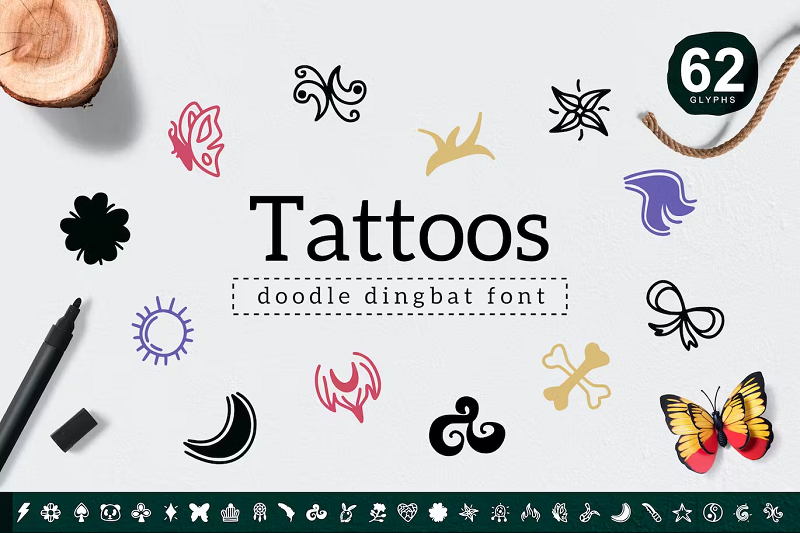 This Tattoos Dingbat Font pack includes 62 small tattoo-style glyphs that could be used as part of your tattoo designs. If you're just looking for an understated, symbol-style tattoo design, then this could be the perfect font to use to find inspiration. 
Glyphs include cute designs like hearts, paw prints, rabbits, stars, pandas, and much more. If you're a tattoo artist, this would be a great font to have in your arsenal to help you easily design tattoos for your clients.
6. Effortless Tattoo Font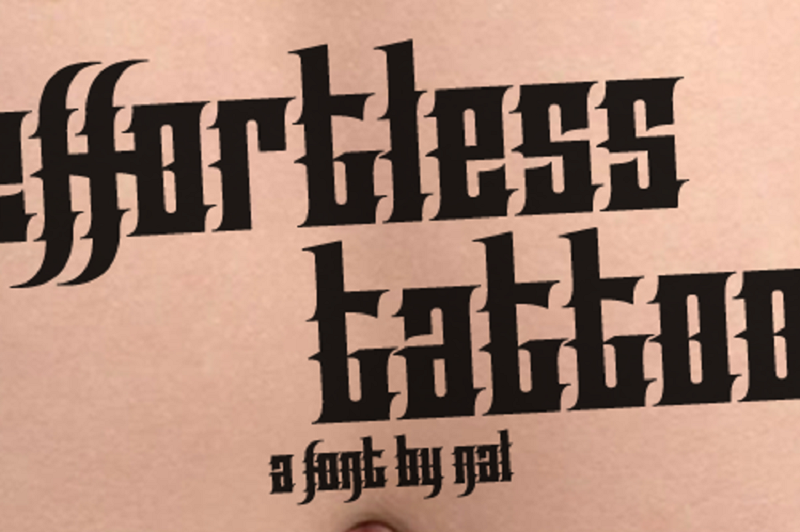 The Effortless Tattoo Font from Fontspace is the perfect free font for bold and masculine tattoo designs. The font is free for commercial use and is sure to make your tattoos really stand out. This font would be perfect for quote tattoos, song lyrics, and more. 
7. Tattoo Beast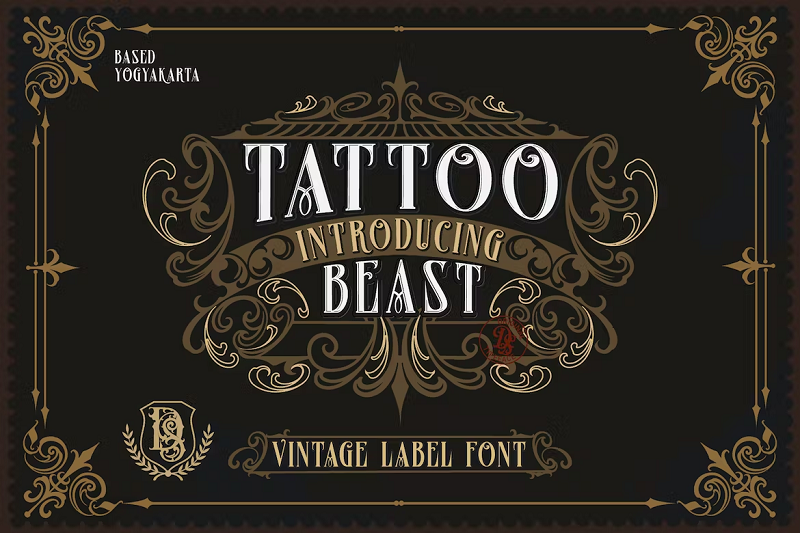 Tattoo Beast is a vintage label font that is perfect for retro or steampunk-style tattoo designs. The font is bold and clear, with thick strokes that would likely hold up well over time, and it's also very distinctive and stylish.
This font would also be great for use in other projects such as on t-shirts and other merchandise, or as part of logos. The font pack includes multilingual characters, numerals, and punctuation. 
8. Avestrava Tattoo Font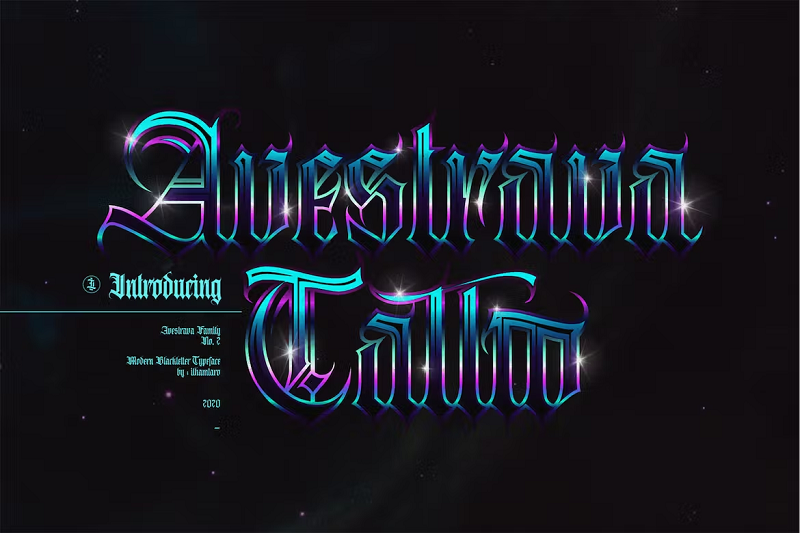 Avestrave is a super cool, traditional tattoo font. The font is based on classic gothic tattoo designs and would work perfectly for name and date tattoos, quotes, and more. This distinctive blackletter font would be perfect for more masculine style tattoos and includes alternate characters, ligatures, and multilingual characters too. 
9. Brightone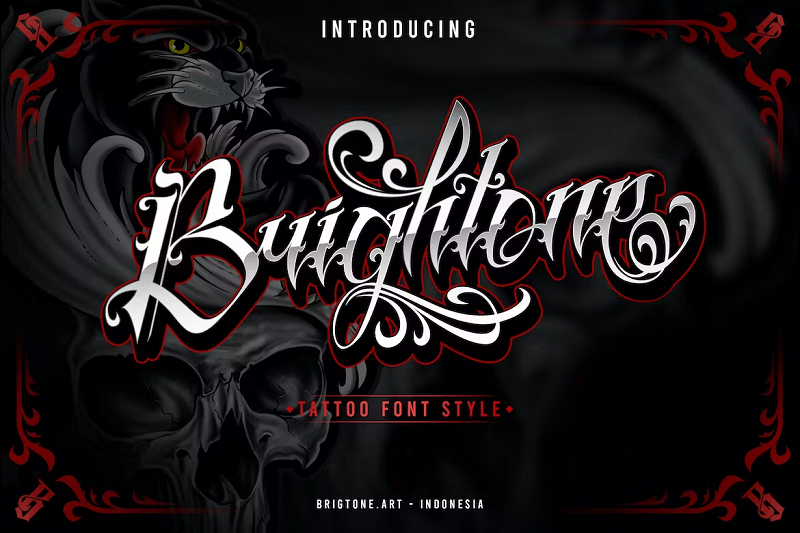 Brightone is a classic script-style tattoo font that is perfect for use in bold tattoo designs. The heavy font had sharp edges making it great for tattoos, and it comes with uppercase letters, numerals, punctuation, and alternates included in the download.
Whether you use this font in your tattoos or on a t-shirt, it's sure to make a bold statement. 
10. Kingside Tattoo Style Font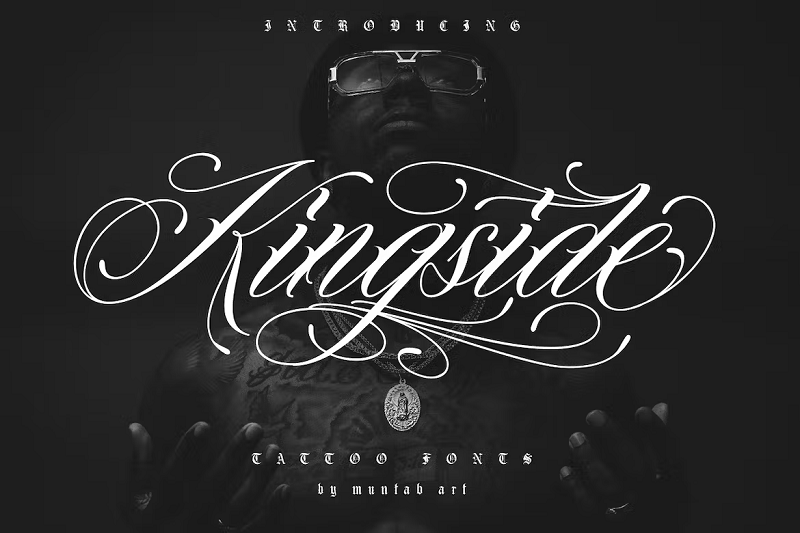 Kingside is a highly stylized tattoo font that would be perfect for large text-based tattoo designs. This style of font is popular when used in name tattoos on the arms, neck, and upper body. 
The download pack includes all the glyphs you need to design the perfect tattoo including uppercase characters, lowercase characters, swashes, numbers, and punctuation.
11. Incognito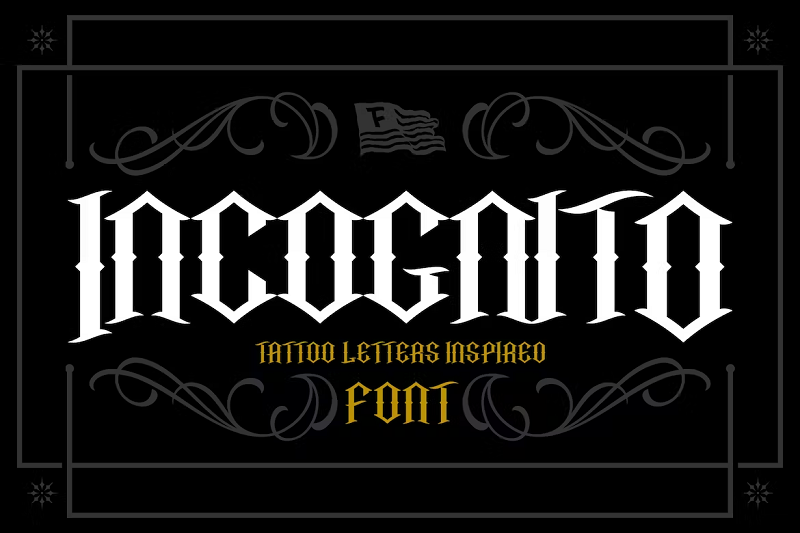 Incognito is a blackletter tattoo-inspired font that is perfect for making a bold statement. Whether you're looking to create designs for body art or to make tattoo-themed merchandise like t-shirts and posters, this font is a great choice. 
It is inspired by classic and vintage tattoo designs, but is also very clear and readable, making it a very versatile option. 
This font includes all uppercase letters, as well as numerals and punctuation. 
12. Carpellon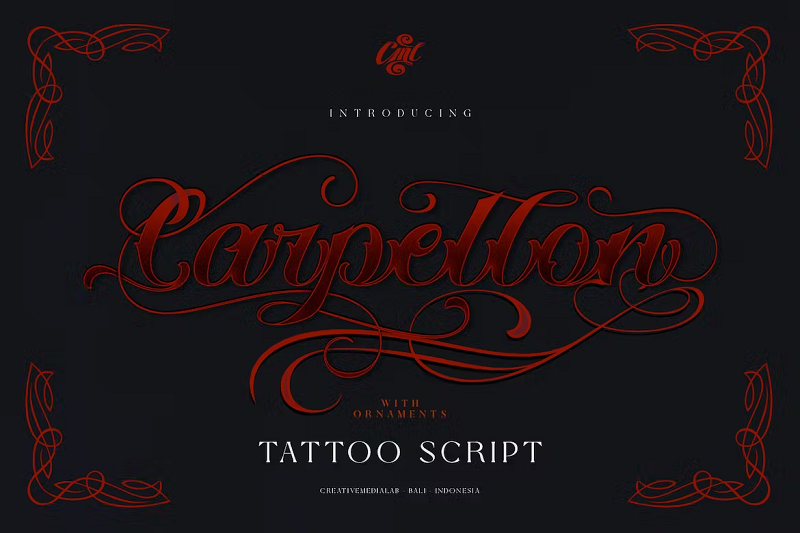 Carpellon is a classy and curvy tattoo-inspired font that could be used in both feminine and masculine designs. 
This font would work particularly well for large tattoos where the script is the focal point of the design. 
The font download includes regular and ornamental versions which will give you extra versatility when it comes to designs. 
13. The Lastring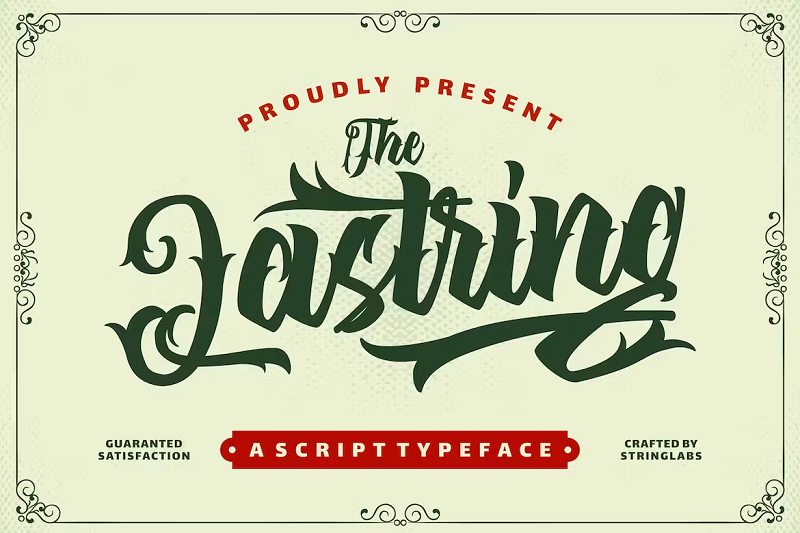 The Lastring is a bold script typeface perfect for tattoos. It combines vintage and retro elements with classic gothic tattoo styles. 
The font would be great for tattoos, but would also work well as a branding font for a barbershop, cafe, or clothing store.
The font download also includes upper and lowercase characters, numbers, and punctuation. 
14. Fire Needle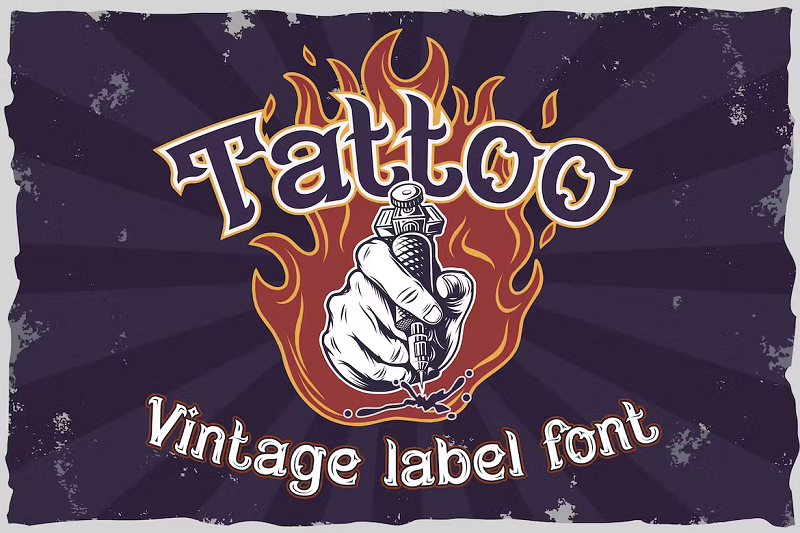 Fire Needle is a vintage label font that would make a great font for tattoos. 
The lettering is clear and bold but still includes vintage elements that would add a touch of classic style to any tattoo design. 
This font would also look really cool as part of t-shirt designs or for signage in a store or cafe. 
15. Rich The Barber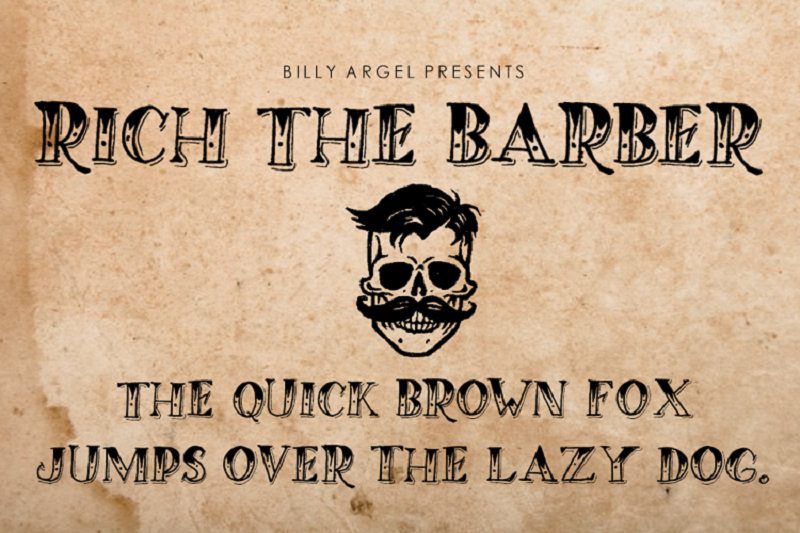 Rich The Barber is another great font by designer Billy Argel. The thick lettering and distinctive style would make it a great choice for edgy tattoos. It's free for personal use, but you'll need to purchase a license for commercial use.
16. Rumble Tattoos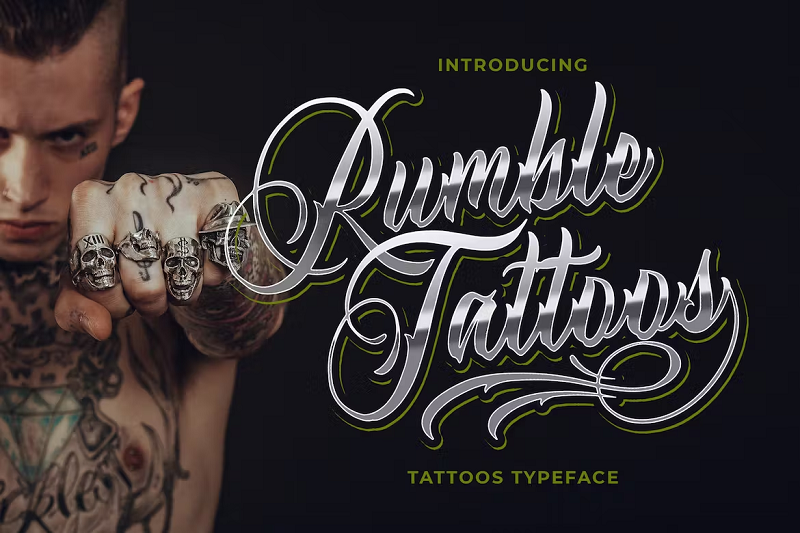 Rumble is an ornamental script typeface with a masculine edge. It's designed for use in tattoos and comes with all the glyphs you need including uppercase and lowercase letters, numbers, punctuation, multilinguals, and more. You can download it in both OTF and TTF file formats.
17. Hustler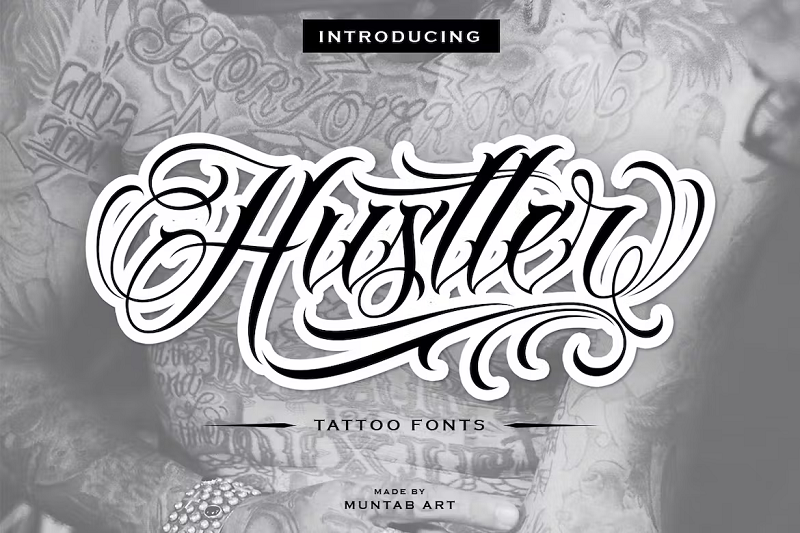 Hustler is a highly decorative font with lots of detail, made by Mustab art. But despite its delicately looping ending swashes, it retains a hard masculine edge. It's a good choice for gangster-style tattoo designs.
18. Meltvan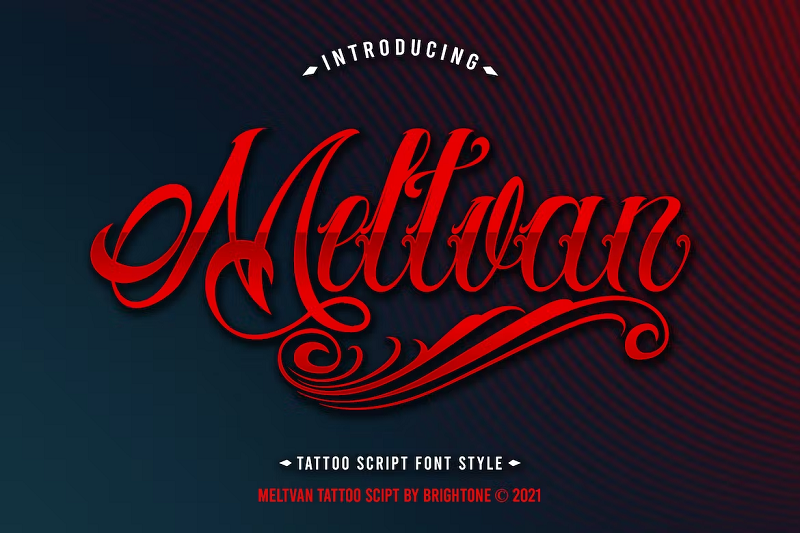 Meltvan is another tattoo script font by Brightone. The designer has added lots of exaggerated flourishes like looping tails and swirls to add visual interest. And all that rich detail makes it a good choice for body art.
19. Rebel Nation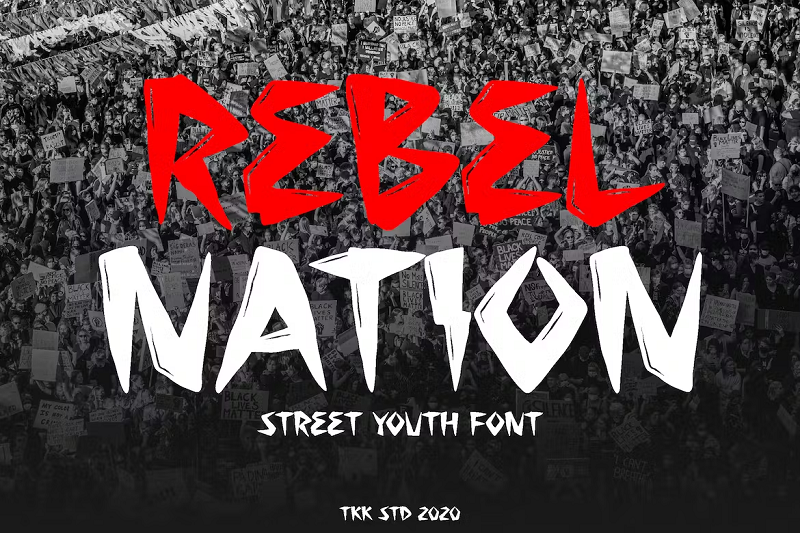 Rebel Nation is a 'street youth' font by Tkd Std. It's reminiscent of the kind of graffiti you might see scrawled on walls in urban areas and captures the spirit of anarchy. If you want to capture that same spirit in your tattoos, it's the perfect choice. 
It features rough, aggressive lettering, and the uppercase letters have an inner gloss effect that looks really cool. It comes in OTF, TTF, and WOFF formats.
20. American Traditional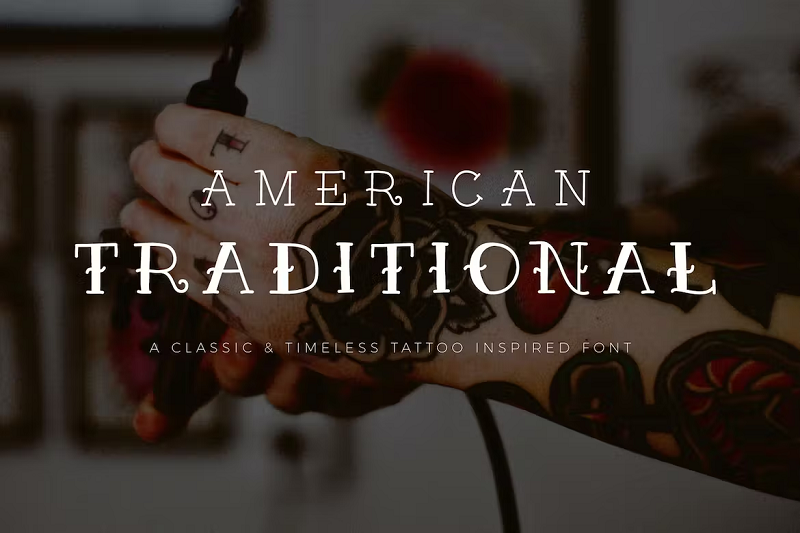 American Traditional is a hand-drawn font inspired by the traditional tattoos of the USA. It features a classic, timeless design that'd be perfect for hipster-style tattoos.
21. Asia Impact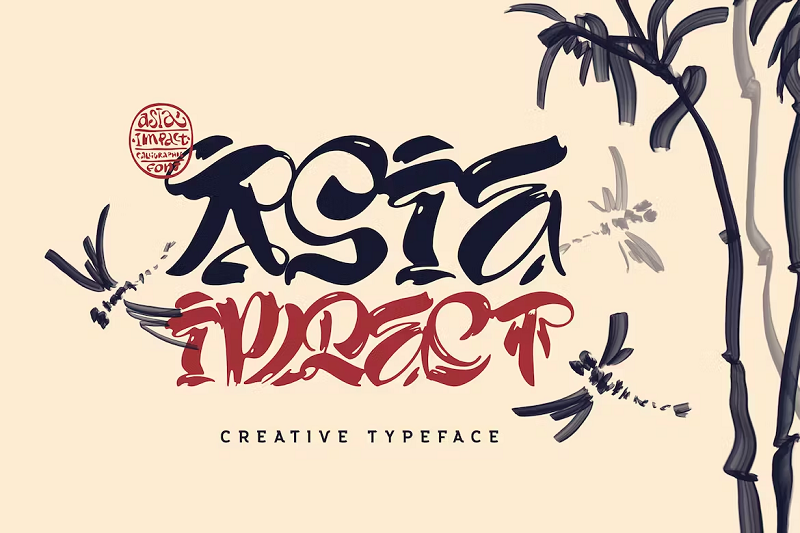 Asia Impact is a super creative and distinctive font unlike any other. It's hand-drawn with thick brush strokes and unique letterforms. The designer has clearly taken inspiration from traditional Asian calligraphy as the shapes vaguely resemble the Japanese Kanji or the Chinese Han. This would work well for tattoo designs featuring authentic Eastern lettering.
22. Rumble Old School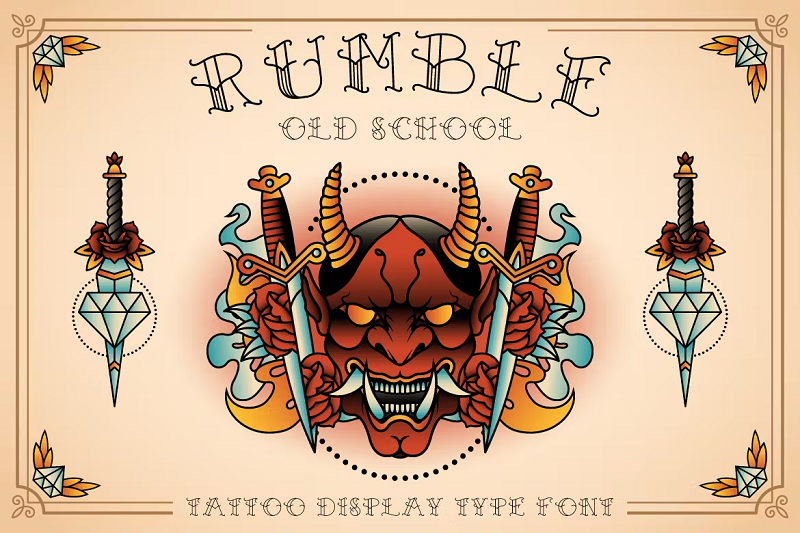 Rumble Old School is another typeface inspired by American retro tattoos. It comes in two styles: Regular and Stripe. The latter includes additional strokes inside the glyphs to add detail and texture. Aside from all the usual glyphs (uppercase letters, numerals, and punctuation), the font pack also includes an old-school tattoo vector.
23. King and Dice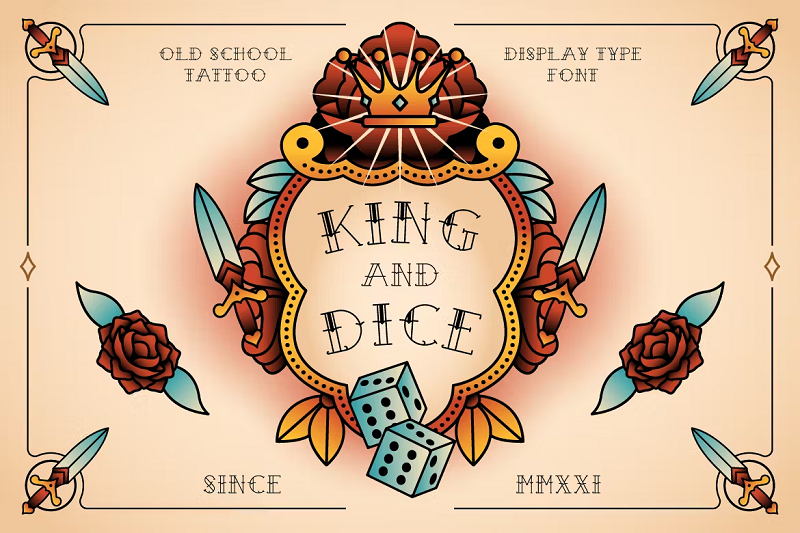 King and Dice is another classic display typeface with a retro-American design. It's a lot like Rumble (which we looked at above), but with straighter lines that make it a little more legible. Like Rumble, it also comes in two styles: Standard and Stripe.
24. Lucy Said Ok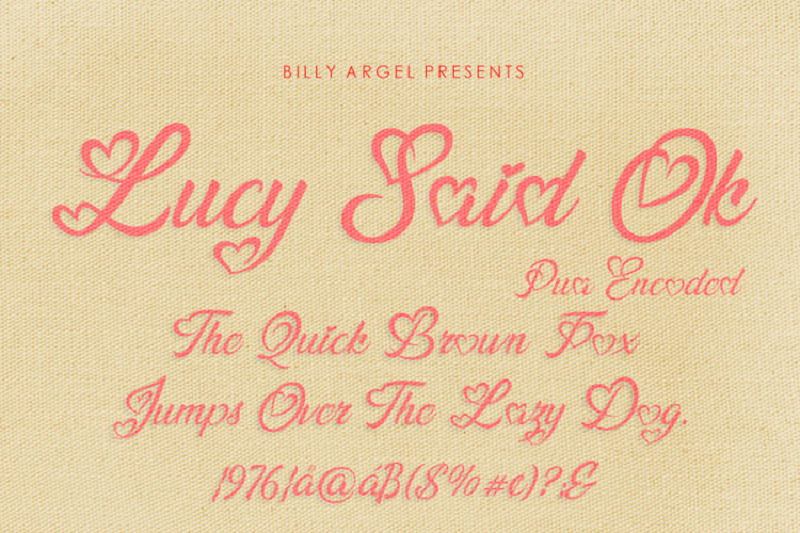 Lucy Said Ok is a very feminine font by Billy Argel. What makes it unique is the way in which the designer has incorporated hearts into the glyphs. This gives it a romantic twist which would make it a good choice for tattoos of your significant other's name or similar.
25. Cassandra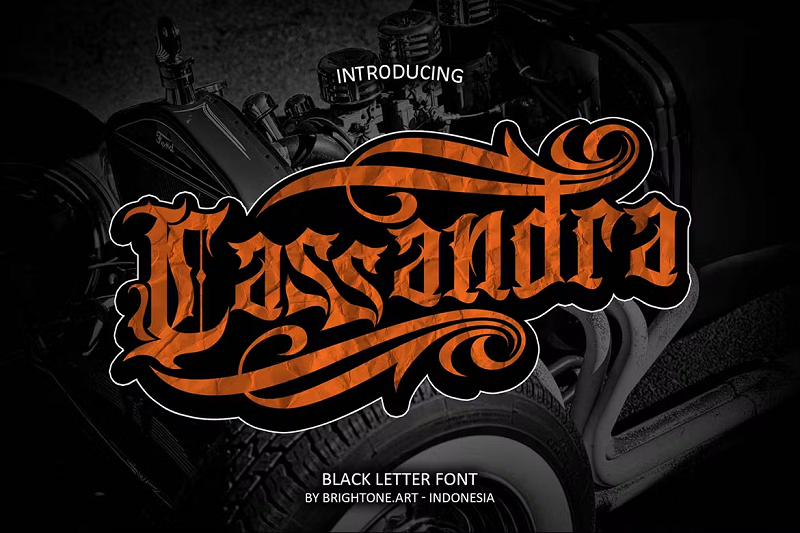 Cassandra is a bold and chunky blackletter tattoo that packs a punch. It'd be a good fit for tribal tattoo designs thanks to its Old English, Gothic style. The strokes are very thick, which should help your tattoos hold up well over time without fading.
26. La Pirata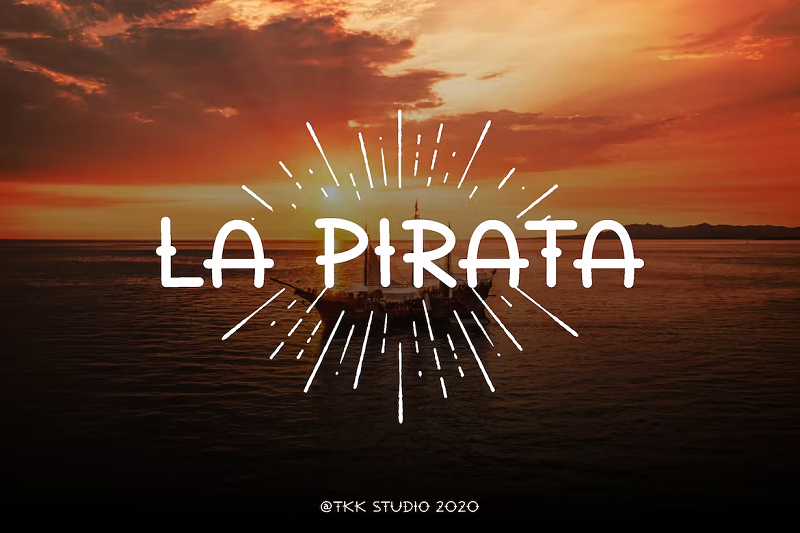 La Pirata is a quirky, simple font with bold curves. It's a fun font that encapsulates the adventurous spirit of pirate life and would be a good choice for nautical tattoo designs. 
The font is all-caps but there's a height difference between uppercase and lowercase letters. It comes in two weights: regular and bold.
27. Tattoo Parlour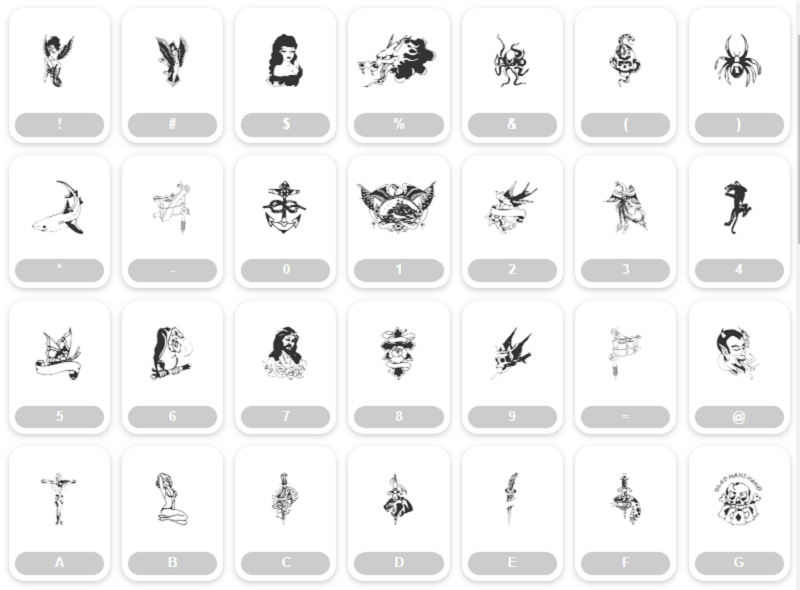 Tattoo Parlous is a collection of 78 free dingbat glyphs. It doesn't come with any letters or numbers, but it does give you access to plenty of decorative elements to use in your tattoo designs, such as decorative skulls, dragons, hearts, etc.
28. Libertad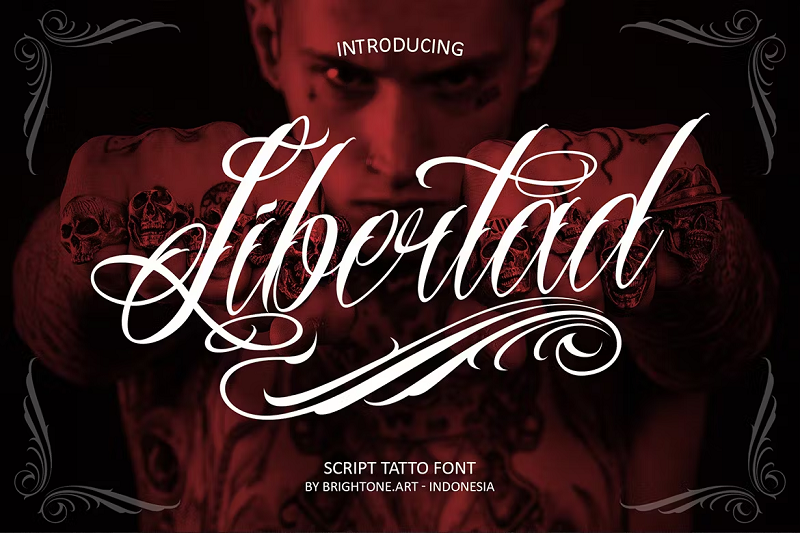 Last but not least, we have Libertad by Brightone. It's another hyper-masculine, script-style tattoo font that's versatile enough to work well in all sorts of designs. It comes with uppercase letters, numerals, punctuation, and accented glyphs.
Tips for choosing the best tattoo fonts for your projects
Choosing fonts for tattoos isn't the same as choosing fonts for other design projects. Here are some tips to help you make the right choice:
1. Bold will hold
Tattoos don't stay the same over time. As time goes by, tattoos will begin to fade slightly and may stretch and become thinner as your body ages.
As such, bolder fonts with thicker strokes tend to hold up better in the long run. 
Fine line styles can still work, but they may need some touch-ups as they could fall out a bit over time—especially if you're getting them tatted on a high-friction area like your hands or feet. That's something to keep in mind when weighing up your options.
2. Style is everything
One of the most popular font styles used in tattoos is Blackletter (also known as Gothic or Old English). This type of font has a classic, old-school look that works well on masculine tattoos.
But if you're going for something more feminine or contemporary, it may not be the right choice. Instead, you might want to opt for a cursive/script font, which is much more delicate and elegant.
It all comes down to personal preference and the style you're aiming for. If you're a tattoo artist, it's worth having a few different go-to fonts for different styles in your arsenal, so you can make suggestions to your clients.
3. Don't forget about licensing
If you're a tattoo artist, you'll need to make sure you have the proper license for any fonts you use in your work. As you're running a business, you'll likely need a font license that covers you for commercial use. 
Many of the fonts on this list are available on Envato Elements, which covers you for commercial use with a monthly subscription.
If you're not a tattoo artist and you're just getting a tattoo, you should be ok to use a font that's free for personal use—but you'll have to check that your artist is willing to use it first.
Final thoughts
That concludes our roundup of the best tattoo fonts.
We hope you found the font you were looking for in this list. But if not, you can check out some of our other roundups for more inspiration.
If you're getting a tattoo of a date or other numbers, check out these awesome fonts for displaying numbers.
Or if you're going for a more futuristic tattoo, check out our roundup of the best sci-fi fonts.
Good luck!
#Tattoo #Fonts #Inked